Welcome to the most comprehensive, extensive and illustrated list of car audio manufacturers ever published.In this page, you'll find over 150 brands nested into 4 different ratings, from best to worst.
From mainstream to boutique manufacturers you probably never heard of.
Brands are alphabetically sorted within the tier they belong to. This doesn't intend to be a millimetric leaderboard from best to worst, because not even all the good brands excel througout their entire product range (which we'll talk about on a more granular level for each one); but more to give you a good idea of who the good and bad boys are.
This document links to plenty of resources, such as comprehensive product line reviews conducted over the years by our team. Therefore, if you're looking at learning more about ANY manufacturer, this is the ultimate resource for you.
You can use the navigation below to jump straight to the brands / segment you're most interested into.
Best Brands
These brands are la creme de la creme in the world of mobile audio.
If you've been for any lenght of time into the scene, you won't be surprised by most of this segment, but there are a few obscure ones you may not know of (yet). Some, sadly extinct now.
Any dollar spent with any of these guys will be a dollar well spent.
1. A/D/S (Pre-ADST)
An old-school brand, that we've surprisingly realized many people don't know of.
The Wilmington, MA based manufacturer started back in 1976 and was, in our opinion, producing their best products ever during the 80 and early 90s, before they turned into this. Their most iconic product ever were the 335PX Component Speakers.
2. American Bass
The Ohio-based American Bass has been in business since 1991 and are best known for the impeccable quality of their subs.
Their reputation is understandable, as they hold numerous world records set in dB Drag Racing, USACi, and MECA and in 2003 they won the Extreme Cup.
Resources:
3. Ample Audio (Amplifiers)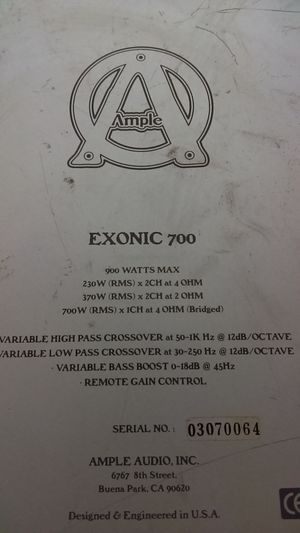 This is an example of a very little known brand that's mind-blowingly good. The California based (Buena Park) Ample Audio.
Started back in 1999 by Sung, who was previously an designer for Crossfire working on their BMF and CFA series of amps.
There are very little records of this company, and their products aren't easy to find online. But when it comes to amplifiers (SQ, not SPL) these are definitely top of the league.
4. Arc Audio
A fairly better known brand is Arc Audio.
The Modesto, CA based brand has carved a name into the industry since their start back in 1998. Mostly known for their speaker lines, they haven't yet reached the mainstream status of other brands, but they definitely have got themselves a reputation amongst hardcore bassheads.
Resources:
5. Ascendant Audio
Founded in 2002 in Crystal Lake, IL, this is perhaps one of the hardest-to-get (non defunct) brands out there. Their subs and speakers are incredibly good, yet incredibly hard to get your hands on. They have no website (been "under construction" for ages) and work only through one dealer that we know of.
6. Audax
The speakers produced by the 80s boutique audio manufacturer Audax are now collectors pieces, really hard-to-find and sought after by SQ aficionados.
They are now owned by the french company AAC (Applications Acoustiques de Composites) and focuses mostly on domes for tweeters. They were on the lead of product development, one of their advances was the HDA (High Definition Aerogel) , a polymer diaphragm material lighter and stiffer than materials normally used in the industry.
Resources:
7. Audiocontrol

The Washington (Mountlake Terrace) based company started in 1977 and has served passionately the mobile audio industry ever since. Most famously known for their amplifiers, they're considered one of the top choices when it comes to quality of build and finesse in SQ.
Resources:
8. Audison
This is another brand that started in the 70s (1979) but this time not in the US, but Italy. They're a high-end mobile audio manufacturer and are best known for their amps and processors. With all their production still in Italy, the quality of their builds is just in another dimension and are worth every single penny of their often high price tags.Products like their 90's LR 605 XR are now a collector's piece.
Resources:
9. Bose
The Massachussets based company has been around the block for a loong time. Founded by the, at the time very young, late Amar Bose back in 1964; fresh out of MIT.
Bose has been a synonim of high-quality, futuristic technology, and constant improvement ever since; their motto being: "Better Sound Through Research"
Resources:
10. Brax/Helix
Both Brax and Helix are brands by the German manufacturer Audiotec Fischer (they have a third one, perhaps a bit less popular called Match).Currently distributed to more than 50 countries, the german audio makers have gone a long way since their foundation in 1990 and are very well regarded inside the scene. Their speaker line is probably the strongest of their catalog.
Resources:
11.
Butler Audio
BK Butler revolutionized the world of audio with the Tube Driver BLUE technology back in early 2000s (although he had already been close to a decade producing audio equipment).
His twin-triode tube-driven design operated in a near plate-saturated mode continuously, a totally unique load-mirroring circuit and employed no output transformers. (source)This shocked the public and recieved great appraisal in 2002's CESNow, his amplifiers are a rare gem to find and if you ever get a chance to get yourself one, by all means do.
Resources:
12.
Cerwin Vega
Cerwin Vega is a regular in our list of the top subs and speakers, and for good reason. The californian brand started in 1954 and went slowly but surely on a path of increasing quality and respect from part of the audiophiles and aficionados. Owned by Stanton Group from 2002 to 2011 and currently by Gibson (the guitar guys), they've kept their quality where it should be over the years. They produce their components in the good ole USA.
Resources:
13.

Coustic
Another top of the league brand that was born in the 70's, boy it was an interesting decade for music. Now owned by MTX (#79 on our list), they're best known for their line of amplifiers.
Resources:
14.
Diablo Audio Technologies (Extinct)
We're arguably taking a risk by including a short-lived, bankrupt, SPL brand right on the "best" list when only their prototype amps were actually worth of being on a hall of fame… but then their proto amps where THE shit and even though there were plenty of issues with their production units (which later resulted in the company going defunct in October 2010), they deserve the mention.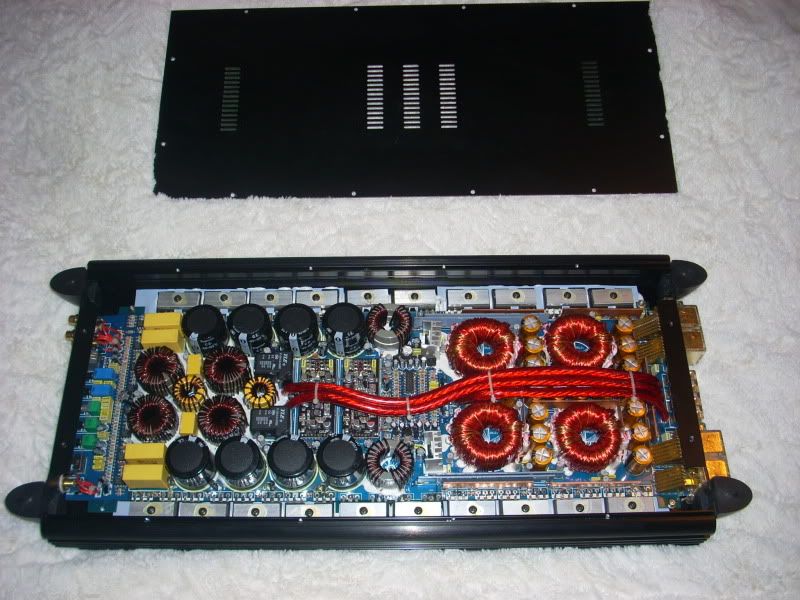 15.
Diamond Audio
Founded in 1994, the California-based company has come a long way from their origins, and have stablished themselves as a referent in both the speakers and subwoofers segments.
They build their components in the good ole USA and that's always appreciated.
Check out their HEX Pro Series if you want to shit serious bricks.
Resources:
16.

Digital Designs (DD)
Oklahoma City based car audio manufacturer DigitalDesigns started first in California back in 1986, and moved to Oklahoma 1991. They build all their products in the USA.
They're mostly known within the SPL scene because of their competition subwoofers. Their Z Series subs have been used in many 180dB+ comptitions.
Resources:
17.
DLS
Swedish DLS started in 1979 and has since then offered a small, but highly impressive line of speaker drivers. They're not as popular in the US as other brands but they're definitely worth checking out. Their designs are proprietary, but their production isn't directly handled by them.
They fiddle with amplifiers too but in our opinion is their speakers, which are used mainly for SPL compeition, that make them worth of the hall of fame. They won several prizes in Europe in the early 2000s and had since got into the home audio segment as well.
Resources:
18.

DynAudio
Another scandinavian manufacturer in the list, this time is DynAudio which is a Danish company founded in 1977. They are the OEM fitter for the Swedish car maker Volvo, aswell as German Volkswagen.They're certainly more focused now on home and studio audio, but one simply cannot believe the quality of their drivers, specially talking about "factory" speakers.
Resources:
19.
Eclipse
This may come as a suprise for some (Mostly because they're vastly unknown in the US) but for those who've ever installed and tested their head units, they'll surely understand why we've listed Eclypse inside our hall of fame.
While originally Australian, now they're part of DENSO-TEN, a Japanese tech conglomerate.
Resources:
20.

Focal
The wet dream of SQ aficionados: Focal. The French manufacturer has been on the game since 1979 and holds and impeccable reputation for the special build and crispiness of sound on their speaker drivers.
They're considered one of the top high-end mass production brands out there, in comparison with other smaller, boutique brands, Focal has achieved outstanding quality while reaching the broader public. Their reputation in the US is growing fast.
Resources:
21.

Harrison Labs

Founded in Colorado in 1979 and with a website looking like straight from those years, Harrison Lab amplifiers are actually friggin fantastic.
Again, another boutique bet-you-didn't-know-about brand that really deserves a mention in the hall of fame. We do not know if they're still in business.
Resources:
22.

Hertz
Next in this list is a much better known brand. The italian tech manufacturer Elettromedia launched Hertz in 1998 and has kept on rising in popularity ever since.
Their high-fidelity components and ongoing innovation has set them apart during the years.
Resources:
23.

Hifonics
Next in this list is a much better known brand. The italian tech manufacturer Elettromedia launched Hertz in 1998 and has kept on rising in popularity ever since.
Their high-fidelity components and ongoing innovation has set them apart during the years.
Resources:
24.

Hybrid Audio
Theirs is an underdog story. Founded in Atlanta, GA in 2005, they're carving themselves a name in the industry by manufacturing some proper high-end audiophile equipment.
For any SQ nerd, the word "Legatia" immediately brings excitement. It's their most popular speaker line and the one that made the brand happen.
Resources:
25.

Image Dynamics (ID)
Here is another USA company, the California based Image Dynamics (ID).
They're most popular within the SPL competition scene, and the IDMax is regarded as one of the best subs ever made.
Resources:
26.
Infinity
Infinity holds an arguable spot on this list (on the "best" segment, that is, they're definitely good). But it's their Kappa / Kappa Perfect lines that we absolutely love.
Founded in 1968, the California based manufacturer was later acquired by Harman in '83 and are OEM for Kia, Hyundai, Chrysler and used to fit most Mitsubishi cars from 1990 to 2006.
Resources:
27.
JL Audio
Lo and behold the Miramar geniuses, James Birch and Lucio Proni. The founders of one of the most iconic brands, JL Audio. Founded in 1975, JL has become one of the best reputed manufacturers both on the SPL as well as in the SQ circles.
The Florida-based company (both design AND production) has been featured in pretty much every single roundup list this website has published, from speakers to shallow mount subwoofers to amplifiers…
Resources:
28.

KEF Kar components
One of the few british brands on the list, KEF.
Founded on 1961 by Raymond Cooke, it was later acquired by the asian giant GP Acoustics in '92. Their speakers from the 90s are highly sought after by SQ people.
Resources:
29.

Kicker
The classical american underdog story is the one of Kicker. 1973, two guys one dream and a garage. With very few resources and an intense love for music, company founder and current president Steve Irby invented the mobile-stereo enclosure market from his Stillwater, Oklahoma community, when he developed the Original KICKER.Theirs is the original Kicker Square sub. It's a hate it or love it thing.
Resources:
30.
Luxman
Here's one of the highest-end competitor's you'll see on this list. The Japanese Luxman.
They focus on ultra high-end amplification, and while they're mostly on home audio now, their vintage amps are considered some of the best ever done. However, the 1984 to 1994 years were bad ones for Luxman as it was acquired by Alpine and their quality dropped significantly. The brand was later sold off and it went back to its origins: Seeking higher sound quality
Resources:
31.

MB Quart
Founded in 1962 in Obrigheim, Germany, they have achieved phenomenal recognition in both the European and American markets. They joined Maxxsonics (Number 77 on our list) in 2005. From this high-performance manufacturer, we like particularly their sets of component speakers but their whole product line is worth of being on this list.
Resources:
32.

McIntosh Laboratories
Founded in 1949, McIntosh is based in Binghamton, NY and has strived ever since their origins to offer the ultimate high-end sound quality. While they're mostly into home audio, it's on their amplifier line for automobile audio that they excel (from the bit that matters to us).
Fun fact: theirs were the equipment used to amplify sound on Woodstock.
A piece of sound history!
Resources:
33.

Memphis Audio
The Memphis, Tennessee guys started in 1965 and have come a long way since then. Catering to both audiophiles and bassheads alike, they've managed to do it ina very successful manner. They're mostly known for their MOJO subwoofer line (SPL) and high-fidelity speaker like "SixFive"
Resources:
34.

MMATS
Although the company was founded in 1990, their story actually dates back to the 70s. The owners of MMATS grew up listening to great bands and treasured when they could experience the music on high-quality sound systems.
It was that commitment to fueling their passion that led to the creation of this top-tier car audio company. In fact, they're the first ones to break the 100 watts per linear threshold, back in 1995.
Resources:
35.

Morel
One issue that comes from listening to music in the car is that you have to compete over a lot of road noise. With that in mind, Morel specializes in making some of the best speakers and amps that you can install in your vehicle.
Since 1975, this Israeli-based brand has developed technology that makes you feel the music as if you were there live when it was recorded.
Resources:
36.

Orion
When you think about the 80's, you imagine big hair and big attitudes to match. Founded in 1984, Orion is all about channeling that attitude into everything they build.
By that, we mean that they manufacture their speakers to hold up against a lot of abuse. Feel free to pump up the volume and rock out like there's no tomorrow!
Resources:
37.

Precision Power (PPI)
Although they have been around since 1984, they are not what you consider an "old" brand. Instead, they have kept with the times, and they are fully committed to bringing the best sound around.
Precision Power's goal is to utilize new technology to make everything sound incredible without having to jack up the price. As their slogan says, they make absolutely state of the art sound.
Resources:
38.

Rainbow
When it comes to engineering, two countries hold the unofficial title of the best. Germany and Japan know a thing or two about building high-quality products, and Rainbow is a testament to the former's ability to get the most out of every machine.
Since 1989, you can rely on Rainbow speakers, amps, and subwoofers to enhance your car's sound capabilities so that you can feel every note and pitch.
39.

Resonant Engineering (RE)
When talking about RE Audio, you have to mention US Amps. US Amps owns RE Audio, and the two companies have formed a magnificent bond that has created some of the sound equipment around.
The amps are meant to pair with the top speakers and subwoofers, which RE Audio has in spades. For 25 years, this combination means you can upgrade your car's sound without having to break the bank.
Resources:
40.

Revolution Design Audio (RD)/DB Dynamics
RD Audio is not the most well-known brand. In fact, if you try to look them up online, you may have a hard time tracking them down. However, even though they're hard to find, they have still made a name for themselves in the community.
When it comes to subwoofers, you'd be hard-pressed to get anything better than what RD Audio has to offer.
Resources:
41.

Rockford Fosgate
If you were to think of the top five sound companies in the world, chances are that Rockford Fosgate would be one of them. Since 1973, this brand has become synonymous with excellent amps, speakers, and subs.
While they were initially designed for instruments and stereos, they have translated well for cars. However, if you want the best, stick with the originals from the 80s and 90s, as they can't be improved.
Resources:
42.

ScanSpeak
Most people wouldn't assume that a company from Denmark would be one of the top car stereo brands in the world.
Fortunately, ScanSpeak isn't looking for fame or fortune. Instead, with their small, 50-person factory, they're committed to making the best drivers they can.
Since 1990, they've succeeded beautifully.
Resources:
43.

SEAS
Considering that this brand has been around for almost 70 years, it stands to reason that they know a thing or two about making excellent sound equipment.
Based in Norway, this small company has had a singular goal – to build the best speakers possible. Fortunately, with so much practice, they don't have any problem reaching that goal every day.
Resources:
44.

Sinfoni
Being Italian, Sinfoni does things a little differently than most car stereo brands. Rather than focusing on the bottom line (read: sales), they take pride in their work.
The results are a symphony for your ears, which makes them one of the most refined options out there.
For over 20 years, audiophiles have rejoiced at their products.
Resources:
45.

Sundown Audio
All too often, when you get a high-powered subwoofer or amp, too much of the sound is drowned out by the vibrations and the bass.
Sundown Audio has spent the last 12 years designing their products to filter out most of that distortion so that you can crank it up without losing quality. That's why they're one of the best.
Resources:
46.

Treo
One of the problems with car audio is that you have highly refined instruments in places where they can go through a lot of wear and tear. Weather extremes, coupled with hazardous road conditions can wreak havoc on speakers and subs.
Fortunately, Treo engineers all of their products to handle these issues with aplomb. Since 1999, you can trust Treo to have your back.
Resources:
47.

TRU Technology
With most brands, they try to make a variety of products, from speakers to subs to amps. With TRU Technology, however, their specialty is amps.
Because they have a singular focus, they're able to maximize their performance and deliver exceptional quality that can't be found anywhere else.
Resources:
48.

Vifa
Although Vifa is well known for making some of the best home audio products, they also do an excellent job at bringing that same dedication to craftsmanship to your car.
To make it even more interesting, this company has been around since 1933, so they've learned quite a bit about what it takes to be the best.
Resources:
49.

Xtant
At first, you may think that this brand's name is supposed to sound edgy and cool. While it does that in spades, it also signifies the quality you can expect.
Xtant means enduring excellence, and this company makes sure that all of their products fit that definition to a T. Since 1994, audiophiles have been coveting these speakers.
Resources:
50.

Zapco
Although one could argue that talent and skills mean a lot in the car audio industry, you can't deny that experience can be just as essential.
For Zapco, being in this business for over 40 years (since 1974) means that they've learned a lot about what it takes to make great audio products. Best of all, they're still learning and adapting to new tech.
Resources:
Good Brands
51. Alphard Audio
The Polish Alphard Audio currently owns three brands aimed at slightly different audiences: Black Hydra, Avatar Audio, and Deaf Bonce.
Stablished in 1997, they have their production line based in Rostov-on-Don, Russia, and are mostly known for their speaker lines.
Although Alphard has three distinct brands underneath its banner, each one is just as excellent as the last.
Based in Poland, this company has strived to excel in the world of car audio, and they've nearly succeeded.
For over 20 years, Alphard has produced some high-quality products, and while we can't say they're the best, they're certainly near the top.
Resources:
52. Alpine
Next in the list is a very-well known brand.
The Japanese electronics powerhouse, Alpine. Originally a venture between Alps Electric and U.S.-based Motorola, dating all the way back to 1967. Registered as Alpine Electronics, Inc. in 1978 when Alps bought out Motorola's share of the company.
They're Japan-based (Shinagawa, Tokio) and so is their production line.
From their products, the ones held in the highest regard by the mobile audio community are their amplifiers, speakers and subwoofers.
As one of the most well-known brands in the world, many people have chosen Alpine when deciding on the best car audio for their ride.
Since 1967, this Japanese company has built some of the most widely used products, and each one is still as good as when they first started.
Better yet, they offer so many different solutions that it can be a little overwhelming.
Resources:
53. Altec Lansing (Vintage)
The same iconic man that founded JBL (James Bullough Lansing) would imprint his name on another brand, Altec Lansing.
When his first busines Alsing Manufacturing went bankrupt, it was acquired by the "All Technical (Altec) Services Company, but would soon (1946) leave to found the JBL brand we all now know of.
While the brand is a lot more focused on Home Audio now, their vintage products are highly sought after by collectionists and were, at the time, some of the best available.
Resources:
54.
Alumapro
Sometimes, you can tell a lot about a company based on its history. Although Alumapro was not always in the car audio industry, they cut their teeth in the world of avionics and military-grade engineering.
That means that you can trust when they deliver some high-quality sound to your ride. Since 1994, they've used their extensive history to ensure that they are always striving for better.
Resources:
55.
Audio Development
When it comes to Italian sound products, you know that they focus more on the results of their engineering, not necessarily the pieces themselves.
To put it simply, you can expect that what you hear is greater than the sum of its parts, and this holds true for Audio Development.
The products are not the most rugged available, but they deliver the goods.
Resources:
56.
Audiomobile
With a name like Audiomobile, you know what to expect with this company's products.
Since 1995, they've been committed to making some of the top high-end systems, and they've made sure that their speakers have little competition.
In fact, their designs are based on concert PA systems, to give you an idea of their pedigree.
Resources:
57.
Autotek
The 1970s was an excellent time for audiophiles. Music was hitting a high point, and stereo systems were becoming more and more advanced.
Gone were the days of distortion and feedback, and now you could enjoy the music. Autotek was born in this era, and they've since prospered because of it.
Nowadays, Autotek is a subsidiary of Maxxsonics, but their quality hasn't diminished.
Resources:
58.
Avionixx
Some audio companies can focus too much on ergonomics. They become so obsessed with form over function that they can lose sight of what makes a product good.
For Avionixx, this is not a problem. They're singularly focused on quality and integrity, and any aesthetics are just a side effect of great design.
Resources:
59.
Blitz
Most people wouldn't assume that a Canadian car audio company could hold its own against heavyweights like Alpine.
However, since 2005, Blitz Audio has been able to do just that. They can be hard to find online, but once you discover one of their products, you know that you're in for an auditory treat, especially with their wireless or Bluetooth options.
Resources:
60.
Boston Acoustics
One way that you can tell how a company values its products is how accessible they are. If you can find them anywhere, then chances are that the brand is either really good or really mediocre.
In Boston Acoustic's case, they take pride in making sure that only authorized dealers sell their speakers. This way, you know that you're getting the best they have to offer, since 1979.
Resources:
61.
Bravox
Since 1953, this Brazilian company has developed a long line of high-quality systems.
Today, their products are so popular that they even make sure that you can access some of their discontinued items since customer loyalty is so strong.
With over 60 years in the business, they've become one of the top brands in their country.
Resources:
62.

Cadence
With some car audio brands, you can get a variety of products, like speakers, subwoofers, and amplifiers.
However, with Cadence, although they sell all of these items, we have to say that their amps are by far the best option for your car.
Since 1988, they've been engineering amps that deliver quality without the risk of blowing out your speakers.
Resources:
63.

CD Technologies (CDT)
When comparing different car audio companies, you can get a sense of how reliable they are based on how long they've been in business. Overall, the average age is between 20-40 years.
For CD Technologies, however, they've been making audio products since 1907. With over 100 years of innovation, you can be sure that you're getting quality and reliability.
Resources:
64.

Clarion (head units)
When it comes to installing the best car audio into your vehicle, there are many different components you want.
Although Clarion is a manufacturer of speakers, subs, and amps since 1940, what makes them unique is their head units. These are the devices that let you control your audio experience, and Clarion makes some of the best.
Resources:
65.

Crossfire
When Crossfire first came into the fray in 1994, the world of car audio was not like it is today. Most brands either imported mediocre products from overseas, or they built high-end speakers that cost a small fortune.
Thus, this company was founded on the idea that quality car audio didn't have to be expensive, and they've been committed to that ever since.
Resources:
66.

Crystal
Although it can be hard to find more information about Crystal Audio Solutions' history, one thing is for certain; they can build an outstanding speaker for your car.
They are committed to high-quality engineering that will yield excellent results and will hold up for years to come. When you think of speakers, think Crystal Audio Solutions.
Resources:
67.

Directed Electronics
If you grew up in the 80s, then you probably know that music was a lot different (read: better) back then. Thus, for a company like Directed Electronics that began in 1982, they had plenty of incentive to make some of the best car audio speakers.
With a commitment to excellence and a lineup that makes competitors blush, you can still rock out to your favorite hits with these speakers.
Resources:
68.

Earthquake
With a name like Earthquake, you can imagine how well the speakers and subs are from this company. When you blast your favorite songs, it will feel like the ground is shaking – you'll feel it in your bones.
Founded in 1985, the brand was all about bringing the vibrations to the forefront of the experience, and they still deliver that quality to this day.
Resources:
69.

Eton
When Eton was first founded, they were in the business of building loudspeakers. As you can imagine, being good at developing sound for that kind of environment helped them immensely when they switched to car audio.
Since 1983, they've been producing and creating products that are synonymous with their heritage, and it shows.
Resources:
70.

Elevation Audio
If you were to go online and try and look up this company, you might come up short.
The fact is that Elevation Audio is not in the business of being famous or widespread. Instead, since 2000, this New York company has been focused on one thing – making excellent car speakers.
We have to agree with their assessment.
71.
Fusion
Some of the countries that are synonymous with high-quality sound and car audio include the US, Germany, and Japan. Most people wouldn't even think to put New Zealand anywhere on their list.
However, since 1998, Fusion has been able to make a niche for itself among the top worldwide brands, and they have products that rival any of them.
Resources:
72.

Genesis
Although this company was founded in 1967 with the idea of making high-quality car audio systems, these days they've shifted focus a little bit and started building some of the best amplifiers in the business.
While they also make some incredible speakers, their lineup of amps is really where they shine.
Resources:
73.

Illusion
Although their name may make it sound like their quality is not quite tangible (i.e., it's an illusion), the fact is that this brand has become one of the better options in the industry.
While they don't disclose much about their heritage, the sound from one of their systems speaks for itself. In this case, good sound is definitely not an illusion.
Resources:
74.

JBL (amplifiers)
Much like Alpine or Hertz, JBL is one of those brands that everyone has heard of. However, being famous doesn't always mean that you make the best products, although JBL mostly proves this statement wrong.
While we can't say that all of their systems are high-quality, the company has been producing some of the best amplifiers in the industry since 1946.
Resources:
75.

JVC Digifine
When most people think of JVC, they imagine car stereos or home audio. However, the company's Digifine lineup is one of their gold standards, meaning that you will be more than a little impressed by the results.
If you've only thought that JVC was good for playing music at home, you need to re-evaluate your options. Being around since 1927 also doesn't hurt.
Resources:
76.

Lunar
Although it's only been around for a few years, Lunar has created some of the best amps and speakers in the business.
Since 2011, this New Jersey-based company has become a notable addition to the world of car audio, making listeners want to turn up the volume.
Resources:
77.

Maxxsonics
Founded in 1977, Maxxsonics has become a world leader in making a wide array of sound equipment, from car audio to mobile and marine systems.
The company continues to innovate, bringing high-quality sound to users around the world. Some of their brands include Hifonics, MB Quart, and Autotek.
Resources:
78.

Mclaren Audio
If you live in the US, you may not be familiar with McLaren, but you should.
Although based in Georgia since 2003, most of the company's sales were overseas, as foreign buyers in 24 other countries all clamored for the exceptional sound quality offered by McLaren's speakers and amplifiers.
Resources:
79.

MTX
If you're looking to upgrade your car audio, then MTX will be more than happy to oblige.
Since 1979, this brand has been building some of the most formidable products you can buy, although they make speakers and subwoofers for boats, powersport vehicles (ATVs), and home audio systems.
Resources:
80.

Naim Audio
For the last 45 years, Naim Audio has been at the forefront of new sound technology. You could say that the brand is obsessed with capturing the perfect audio for both standard and high-end vehicles.
Based in the UK, Naim has become synonymous with exceptional sound quality, which is why it's installed on brands like Bentley.
Resources:
81.

Panasonic (Headunits)
When most people hear Panasonic, they picture consumer electronics, like headphones, TVs, and stereos. However, the company also makes some incredible head units.
With over 100 years in the industry, this Japanese company has learned a thing or two about making an incredible sound.
Resources:
82.

Phoenix Gold (older 1990s amplifiers, subwoofers)
Started in 1985, this company has been making some excellent amps and subwoofers for all cars. In fact, they are so good that many audiophiles still prefer some of their old products from the 90s, rather than buying newer versions.
It's a testament to US manufacturing, as the brand is headquartered in Florida.
Resources:
83.

Pioneer (subwoofers)
When it comes to car audio brands, most people know Pioneer.
Part of the reason for this is that the company has been making sound systems since 1938. Japanese audio brands are usually high quality, and Pioneer is no exception. They can be a little underwhelming on some products, but it's their subwoofer line that makes them worth this spot.
Resources:
84.

Planet Audio
In 1997, this company was founded on the idea that car audio systems shouldn't be expensive to be good.
While some people believe that price reflects quality and craftsmanship, Planet Audio proves that you can get the same results without breaking the bank.
Currently, the brand is owned by Boss Audio. (Number #101 in this list)
Resources:
85.

Polk Audio
When Polk Audio was founded in 1972 in Maryland, music was in a golden age.
The engineers at the company wanted to capture the sounds and attitude of the live music experience and help people at home feel like they were in the front row.
Since then, they've innovated some exceptional car products that make the music truly come alive.
Resources:
86.

Powerbass
Although based in Ontario, CA, PowerBass is notable because they control every aspect of their manufacturing process.
The brand works with overseas factories to ensure that every speaker, amplifier, and subwoofer meets their exacting standards, all since 2001.
Best of all, this vertical integration helps save consumers money.
Resources:
87.

PRV Audio
Not much is known about PRV, but this Florida-based company likes to keep it that way.
As one of the best-kept secrets in the industry, you can be sure that you'll love the sound coming out of your speakers.
Since 2006, audiophiles have been cranking up the volume on PRV products.
Resources:
88.

Soundstream (older pre-PA amplifiers)
Although they've only been in business since 2011, Soundstream has quickly made a name for itself in the car audio industry.
With a commitment to excellence, the California-based brand has brought on some of the foremost sound engineers to ensure that their quality is not second-best.
Resources:
89.

Synergy audio
If you want to buy a synergy audio speaker or amplifier, you have to go through a third-party seller.
This Australian company doesn't operate any headquarters in the US, but that's not a problem – the sound is incredible no matter what.
Since 1999, Aussies have been enjoying Synergy Audio, and now you can too.
Resources:
90.

US Acoustics
How do you know that a car audio brand is better than the competition? If you're US Acoustics, you revel in the various awards and trophies you've earned since your humble start in the 1990s.
This brand has been at the forefront of new audio technology, and it shows with each product in their lineup.
Resources:
Mediocre Brands
91.

Aiwa
With so many businesses competing in the car audio industry, it makes sense that some wouldn't be able to last. Although we have respect for most Japanese audio companies, Aiwa wasn't able to compete.
Founded in 1951 and shuttered in 2006, you can still find some of their products online.
Resources:
92.

Alphasonik
This brand is mostly known for making speakers and subwoofers for DJs, but they've been making car audio as well.
Since 2001, this California-based company has tried its hand at producing the same quality in your vehicle, with mixed results.
Resources:
93.

Ampere Audio
Since they've only been around since 2013, this Texas audio company still has a little ways to go before they become an expert in car audio.
Although they have some quality products and are committed to doing their best, the sound quality isn't quite what it should be.
Resources:
94.

Audio Legion
Based in Korea, this small car audio company is still trying to find its footing. Initially, they only sold directly to the consumer, but have since branched out to work with qualified dealers.
Since they're relatively new to the industry, they still have a little ways to go before they're more widespread.
Resources:
95.

Audiobahn
With a name like Audiobahn, you may think that the company is based in Germany. However, it was founded in 1997 in California, and it manufactured its equipment in Mumbai.
Unfortunately, its mediocre sound led to the brand's demise, which means that you can only buy discontinued merchandise online.
Resources:
96.

Audiobank
Since 1978, Audiobank has been in the business of producing amplifiers and woofers for cars.
With a commitment to excellence, they've been able to create a decent lineup, and they hope to continue to work long into the future. However, with a mediocre sound, they do have their work cut out for them.
Resources:
97.

Bang & Olufsen
For the most part, having a company that's been around for decades means that you're doing something right.
For Danish brand Bang & Olufsen, that means creating car audio systems since 1925. However, their focus is mostly on adding elegance and aesthetics to their audio, rather than focusing on quality.
Resources:
98.

Bazooka
With most car audio brands, they build speakers and subwoofers that blend seamlessly into the vehicle.
Since 1983, Bazooka has decided that the best way to add sound to your car is with bass tubes that stick out.
Also, they specialize in party bars, which can mount to any vehicle, including boats and ATVs. We'll let you draw your own conclusions.
Resources:
99.

Blackmore Mobile Electronics
When it started in 2004, Blackmore didn't make too many waves in the car audio business.
The brand hoped to make a comeback in 2012 with a rebranding campaign that upgraded the look of their products, but unfortunately, the better design didn't come with upgrades to the sound.
As such, they still produce mediocre results.
Resources:
100.

Blaupunkt (Bosch)
When this company started in 1923, it was called Ideal. However, their brand had a signature blue dot, which caused customers to ask for the "bluepoint" radios.
After a while, the company leaned into the name, which is where Blaupunkt came from. Unfortunately, it wasn't meant to last, as the brand folded in 2016.
Resources:
101.

Boss Audio
When Boss was founded in 1987, the company was committed to building high-quality car audio products.
Today, the brand owns many different other companies, which has led to a catalog of over 400 different sound systems.
Many of their subsidiaries make exceptional sound, although Boss itself is mostly mediocre. Fair enough, they aim to fill the low-ticket, entry level part of the market and to be affordable for the shy consumer who doesn't want to fiddle with "expensive" electronics, but they are much better at marketing that they are at building audio gear.
Resources:
102.

Crescendo audio
Whether you want speakers, amplifiers, subwoofers, or some other audio component in your car, Crescendo has you covered.
Since 2009, this Florida-based company has expanded their catalog of affordable and mostly okay products. If you're on a budget, this may be a good choice.
Resources:
103.

Crunch
Although Crunch has been around for more than 30 years, it didn't take off until it became part of the Maxxsonics family in 2001.
Since then, the brand has still cranked out decent speaker and amplifier units, with an emphasis on the Power of Music.
Resources:
104.

D'Amore Engineering
When this company was founded in 2011, the owners set out to help make it easier to get the best audio.
Interestingly, though, they specialize in tools that monitor speaker distortion, rather than producing high-quality speakers and amplifiers.
Resources:
105.

DS18
Being a relatively young company, DS18 seems to be more about the attitude of car audio, while the actual sound and performance come second.
With a lineup of speakers and amps with names like Candy, HooliganX, and TroubleMaker, we'll let you decide if the names are better than the products themselves.
Resources:
106.

Dual
Having an audio company be in business since the turn of the last century is impressive, so we'll give props to Dual for being operational for so long (since 1907).
The brand currently specializes in multimedia car audio, offering both speakers and touchscreens.
Resources:
107.

Elemental Designs (eD)
Not much is known about this mysterious brand. We don't even know where it's based or when it was founded.
However, you can find speakers and subwoofers online, so there must be a factory somewhere, churning out these mediocre products.
Resources:
108.

Eonon
These days, it seems like Chinese companies are everywhere. Since 2002, Eonon has been at the forefront of car audio-video systems, with a specialty in touchscreens.
However, because tech is their priority, the sound is only okay for this Hong Kong-based brand.
Resources:
109.

Harmon-Kardon (current, Phoenix Gold owned)
Although the company was founded in 1980, it's since become a subsidiary of Phoenix Gold. While Phoenix's products are good, Harman-Kardon's are just mediocre.
This brand focuses mostly on home audio systems, although they do offer some decent car audio products too.
Resources:
110.

Infinity (amplifiers, reference components)
Infinity was started in 1968 with a passion for audio and sound. For the last fifty years, the brand has been creating speakers, amps, and subwoofers for different generations.
Currently, they're owned by Harman-Kardon, which itself is a subsidiary. Unfortunately, this dilution of brands has led to a drop in sound quality.
Resources:
111.

Kenwood (head units)
Although Kenwood is an audio brand with a lot of clout in the industry, the results don't speak for themselves, at least when it comes to head units.
Car radios should be easy for this Japanese company, but they're nowhere near the same quality as other giants in the industry, despite having been around since 1946.
Resources:
112.

Lanzar
This brand was started in 1994, and it appears as if their website is still stuck in the 90s.
With a mediocre rating, this New York Company doesn't have much going for it, although they do offer a wide selection of amps and speakers.
Resources:
113.

Lexicon
Like Infinity, Lexicon is another Harman brand, so you already know what to expect regarding quality.
The company was started in 1971 and is based in New York. They mostly specialize in home audio, which is part of the reason why their car audio products are not as excellent.
Resources:
114.

LG
Most people are familiar with this South Korean brand, thanks to their innovations in consumer electronics. However, being good at smartphones and TVs doesn't mean that you're good at car audio, which is why the brand has a mediocre rating.
Resources:
115.

Lightning Audio
If you were to search for Lightning Audio online, you wouldn't come up with much.
This company has been around since 1992, although their products are only sold through third-party sites. However, with a mediocre rating, that may be a good thing.
Resources:
116.

Mark Levinson
Harman has a lot of brands under its belt, and unfortunately, none of them are high-quality.
Mark Levinson continues the tradition of specializing in home audio, leaving their car audio speakers and amps to leave much to the imagination.
Although founded in 1972, being part of the Harman lineup hasn't helped its cause.
Resources:
117.

Matsui (DAB)
For the most part, Japanese electronics are better quality than their domestic counterparts. However, when compared to other Japanese brands, Matsui is not close to the top of the list.
Started in 1980, these products are hard to find online, which may be for the best, considering their mediocre quality.
Resources:
118.

Metra Electronics
Founded in 1949, Metra has been producing a wide range of auto parts and accessories. While they're mostly focused on things like turbo kits, they do offer some car audio as well. Unfortunately, sound is not their specialty.
Resources:
119.

NVX Audio
When founded in 2011, the owners of NVX decided that it was high time for car audio manufacturers to educate their customers, rather than rush products to market.
Since then, they've been focused on providing information to the public about what makes car audio systems great.
Too bad they haven't learned from their own materials.
Resources:
120.

Onyx Mobile Audio (Harman/Kardon)
Although this company was founded in 1982, it's since become part of Maxxsonics' lineup.
That being said, these car audio systems are relatively hard to find that is part of the reason why their quality is mediocre. Limited selection and not much support will do that.
Resources:
121.

Panasonic (subs and amps)
You probably know and love them for a variety of reasons. This Japanese company has been around since 1918, and they make some excellent products.
However, when it comes to subwoofers and amps for your car, they're not at the top of the list.
Resources:
122.

Phoenix Gold (anything after the mid-1990s)
When Phoenix Gold first started, their products adhered to their name (i.e., they were golden). That's why pre-1990s speakers and amps are still in high demand.
However, if you get anything more modern, you'll likely be disappointed, especially if you started with a legacy product.
Resources:
123.

Pioneer (amplifiers)
As one of the well-respected audio brands out there, it's hard to imagine that anything this Japanese company makes is mediocre.
Unfortunately, though, when it comes to amplifiers, they leave a lot to be desired. Instead, focus on their subs and leave the amps to the professionals.
Resources:
124.

Power Acoustik
One of the primary focuses for this California brand is amps, both for cars and DJ equipment.
They also sell other car audio products, like speakers and touchscreen head units. However, having only been around since 2011, they're still trying to find what works best, hence their mediocre rating.
Resources:
125.

Samsung
Most people are intimately familiar with this South Korean brand, thanks to their prevalence and dominance in the smartphone market. However, when it comes to car audio, the quality is nowhere near what you'd expect.
Although they make great electronics, Samsung is not a car audio expert.
Resources:
126.

Sanyo
Since 1950, this Japanese company has been making decent car audio products, from speakers to subwoofers.
However, outside of the country, it's hard to find these items, which can pose a problem for fans. Nonetheless, the quality isn't that great, so maybe that's a good thing?
Resources:
127.

SAS Bazooka (bass tubes)
With most car audio companies, the brand makes speakers and amps that fit into the car seamlessly. With Bazooka, their bass tubes stick out like a sore thumb.
If you don't mind installing something like that in your car, you should be satisfied with the results. However, good bass does not a great sound system make.
Resources:
128.

Soundstream (current Power Acoustik owned products)
Before PA bought them, Soundstream audio products were pretty good. You could feel good about installing them into your vehicle.
However, since the buyout, it seems that the current owner hasn't kept the same quality, so be aware of the date of your Soundstream products before buying.
Resources:
129.

Taramps
When you think of excellent car audio companies, most of them are based in either the US or the South Pacific.
Brazil is not well known for making high-quality products, and Taramps doesn't do much to dispel that notion. Since 2000, this company has produced mostly mediocre products.
Resources:
130.

Vibe
If you find car audio from the UK, chances are that it's a hit-or-miss situation.
Since 1993, Vibe has produced both high and middling quality products, so they're par for the course when compared to other UK brands.
They offer a wide range of speakers, amps, and subs.
Resources:
Stay Away From:
131.

American HiFi
American HiFi is a brand of speakers from Rockwood. They are a fancy name for their Hi-Fi sound speakers, but they cost a lot more than they are actually worth.
Trust us, their quality is not worth what you would pay for them.
Resources:
132. American Pro
American Pro is a mysterious company with no online information. They're the first and they're definitely not the last. You can find their speakers and subwoofers on Alibaba and eBay.
Their quality is nothing to really write home about, and without any website to visit, you cannot really trust their products.
133.

Audiovox (owned by VOXX Electronics)
What started as a small startup company in 1965, Audiovox is a company that sells a plethora of different electronics from disc players to car accessories.
We do not recommend their old speakers and subwoofers, as we do not find them to be professionally made.
Resources:
134.

Becker (owned by Harman International Industries)
The Becker Company was a conglomerate in Germany that made car radios for Mercedes-Benz automobiles, among other products from the 1970s through the 1990s.
Their speakers were made with adequate reception from consumers, but fortunately no other opportunities for this company were known at this time.
Resources:
135.

DHD
Nothing is really known at this time about DHD, either. They sell speakers, equalizers, and subwoofers across several different online sites.
Oddly enough, DHD also sell decorative tin signs and artificial bouquets of flowers too on their Amazon page.
136.

Electrovoice
Electrovoice began in 1930 in Minnesota, and they're still in business to this day. They offer portable stereos, head units, and more.
Most of their equipment they offer is for recording studios, churches, and other public venues.
Resources:
137.

JDL
Not to be mixed up with JBL, JDL was a brand of audio speakers long ago.
Not much is known about this past company, but you can find their products used on some online distributors.
We don't really think they will be worth the money, though.
138.

Jensen
Jensen is a century old business that has originated in Italy, with manufacturing done in Germany and the United States.
While their company has managed to be in business since the 1910s, their products just do not seem to get with the times.
Resources:
139.

Kenwood
Started in 1946 in the land of the rising sun, Kenwood was a leader in electronics before being mitigated to just car radios.
While their sound is exceptional, we can't help but feel taken aback by how loud they are.
They have a storied history, but today's products do not reflect that.
Resources:
140.

Kingwood
Not to be confused with Kenwood (likely a knock-off brand), Kingwood was another brand of car speakers and subwoofers in the United States.
Their quality was not their best, but unfortunately their efforts did not hold up to keep them afloat.
141.

Kole
Not much information is known about this brand of car speakers, other than they are owned by Epsilon Electronics in California.
Kole's hilariously outdated website raises the question of whether or not they are still making speakers today, and you would have better luck reaching their parent company for reliable speakers.
Resources:
142.

Kraco
Kraco is a company that first took off in 1954. They're still around today making various different car products.
While they used to make car speakers, that was a long time ago, and many speakers are just bought and sold today as collector's items.
Resources:
143.

Kronik
Not much is known about this company, and we do not even have any record of this brand ever existing.
If you ever search on the internet for Kronik speakers, you are actually shown to some car wheels.
Regardless, their speakers could not have been any good.
Resources:
144.

LA Sound
Like entertainers and scriptwriters, California is replete with speaker manufacturers.
Their products were nothing impressive to really stand out, and the company got lost in the shuffle with its competition years ago.
Resources:
145.

Legacy
Legacy crafts some fine home speakers, but do not let that shiny wood fool you.
At seven thousand bucks a pop, these are more like high-priced decorations to go with the rest of your entertainment system.
These literally are your grandfather's audio speakers.
Resources:
146.

MA Audio
Another California company that launched in the mid-80s, MA Audio offers custom car audio systems for car owners looking to overhaul their rides.
While they can offer stylish looking systems, their quality is not worth the extravagant appearances and prices.
Resources:
147.

Macaudio
Pronounced "Mac Audio" this New York speaker brand gives you multiple versions of their signature speaker and subwoofer.
While we love choices, we cannot really recommend any of them here, unfortunately.
Resources:
148.

Magnat
German company Magnat creates some sleek looking speakers and stereo systems that can blend in nicely with the decor, but rather than relaxing at home with the music on, the crackling of these speakers can actually remind you of the pool at your local rec center.
Resources:
149.

Massive Audio
Massive Audio launched in 1999 in California.
They provide custom car audio systems that look more pleasing than MA Audio's, but they're not really catered towards the typical car owner looking for just a regular upgrade from their base car radio.
Resources:
150.

Optimus
This brand of speakers is the store-brand product of RadioShack. They offered affordable speakers for less quality and slightly static noise.
This brand of speakers was later scrapped once RadioShack reached a deal with RCA that marketed their products.
Resources:
151.

Phase Linear
Defunct company Phase Linear started up in 1970 in Washington State. It wasn't until nine years later until they were bought by Pioneer, and then sold to Jensen.
Phase Linear has grown a cult following, and you can get their products used for just as much as they were new decades ago!
152.

Profile (Brand owned by Leon Speakers)
A brand of home sound systems by a company called Leon.
These speakers are wall and side mount speakers that are meant to look discreet in the room.
The problem with them is that they are not all that loud.
Resources:
153.

Pyle
Pyle makes many different electronics and equipment from car speakers to electronic drumming kits.
This New York Company does have a selection of mobile audio components, but we admit that they leave lots to be desired. They're affectionately known on the car audio forums as a "Pyle of S**t".
You cannot fault them for their efforts to get noticed, however.
Resources:
154.

Pyramid
Founded in California in 1979, they specialize in speakers, woofers, and amplifiers.
Many of their speakers are not top of the line, and you are certain to notice a cracking.
Resources:
155.

Rockwood
Rockwood got started in California around 1982, but their products just could not beat out competitors.
Known for having noisy static with each model of speak they created for home and car use, people soon after understood their inferiority and could not find a way around it.
156.

SAS Bazooka
SAS audio labs hail from Italy. Their primary Bazooka line of speakers and woofers while are decent products, are not compatible will all kinds of cars.
Furthermore, these are bass speakers to the extremest of extent, so they might not sound exactly the way you want your music to sound.
Resources:
157.

Sherwood
From Mississippi, and currently owned by Kenwood, Sherwood is a car speaker company that peddles rather inferior and outdated speakers.
While they try to thrill consumers with great sales, don't expect to get the best products from Sherwood.
Resources:
158.

Sony
Of course, no known corporations are exempt from this list. Sony is one of them, and they haven't done much of a great job to place themselves higher. Which is a pity because some of their head units are fab, but reality is Sony sucks at everything else when it comes to mobile audio.
Sony has been in big business for decades, but unfortunately, they are not the kings when it comes to audio.
Even lesser known products from smaller companies fare better.
Resources:
159.

Sound Storm
This California-based company began in 1997.
They manufacture amplifiers, speakers, mobile video systems, and much more.
Their once feature product, however, the "BoomTube", looks like a connection of pipes.
Fortunately, they have moved past such strange concepts and moved towards a more digital approach.
Resources:
160.

Sparkomatic (Merged with Altec Lansing)
Sparkomatic was a Pennsylvania manufacturer of car speakers from 1953 to 2000. Even the Wikipedia page admits their products were "low-end, K-Mart junk".
In 2000, Altec Lansing merged with Sparkomatic, but "absorbed" is another way to put is, as nothing of Sparkomatic remains to this day.
161.

SPL Audio
Sound Performance Lab, AKA, SPL Audio, is another German company that offers a plethora of different audio devices.
Unfortunately, the bulk of their offerings are for musical production, and they have very few products about sound systems.
Resources:
162.

Thump (owned by Mackie)
The Thump series of speakers are created by Mackie. While they look like effective speakers, they are really made of shoddy materials, as if they came right from China.
Don't buy them online, or they will arrive damaged from transportation.
Resources:
163.

Ultimate Sounds
Formed in 1975 in Canada, Ultimate Sounds sells amplifiers and speakers across all regions of the world.
They offer affordable speakers and car accessories, but they are rather cheaply made, and you can really feel that hard plastic you likely do not want to have anymore.
Resources:
164.

Volfenhag
While we assume this company hails from Germany, we are not all that certain. They have sold speakers, amps and subs since at least 2004.
They certainly stand out with their blood red speakers, but there is nothing to really write home about.